Weather can change in an instant across the varied terrain of our large state.
If you're out and about in town, working outside, or just sitting at home, staying alert when weather strikes is important. Staying alert keep can keep you and your family safe. It can save lives.
"Now is the time to start preparing," says Tom Frieders, the Warning Coordination Specialist at the National Weather Service, Billings.
Tom Frieders says you can receive emergency alerts on your television through broadcast media and emergency alert scrolls. You're probably familiar with those.
You can also sign up for alerts on your phone via weather apps. Just make sure you have those features turned on and you allow push notifications.
If you have a smartphone, there's an even easier way to stay alert.
"The wireless emergency alert system is something fairly new for those people that have the newer smartphones," Frieders says.
Government-issued alerts can be accessed by turning them on under notifications or settings on your smartphone.
Frieders says the National Weather Service will only issue tornado and flash flood warnings to your phone.
"We kind of reserve the cellular emergency alerts to the serious warnings that could immediately impact life and those include tornado warnings and flash flood warnings," says Frieders.
When your TV is off or your cell phone isn't handy, the NOAA weather radio is the best way to receive information. Frieders says it's a direct link to the NWS and all our watches and warnings."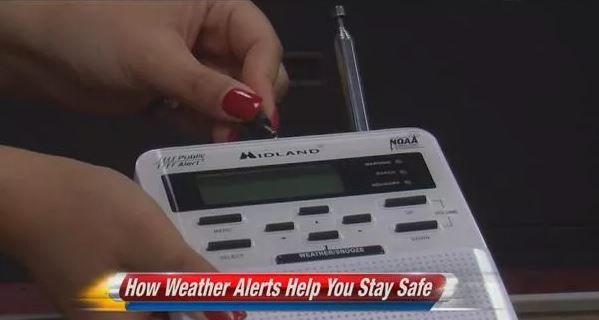 A weather radio costs around $30. All you have to do is code in your county number, plug the radio in or pop-in some batteries, and you'll be notified of any alerts impacting your county.
"That will sound an alert on your radio and turn the radio on to alert you that there's hazardous weather going to impact your area," says Frieders. He says for rural areas, the radio works great because there are NOAA transmitters all across the country.