BOZEMAN — On Tuesday, a reporter asked Eastern Washington offensive lineman Seth Carnahan about his team's schedule and mentioned Florida, a Football Bowl Subdivision team that will host EWU on Oct. 1. That triggered one of football's favorite cliches.
"Just take it one week at a time. We're not looking at Florida right now," Carnahan said, adding, "It's exciting to go play in Gainesville in front of however many people are going to be there. But yeah, we're not thinking about that right now. Looking forward to Montana State."
The Eagles, who are ranked No. 15 in the Stats Perform FCS Top 25, want to avoid peeking ahead or behind their home game against No. 4 MSU on Saturday.
In most seasons, EWU's focus on a ranked matchup against a Big Sky Conference opponent would go unspoken. The Eagles' strange schedule has caused enough distractions to make that focus a little less obvious. But they don't need to be reminded of the MSU game's magnitude. The stakes are huge.
EWU opened the season with a 36-29 home win over fellow Football Championship Subdivision team Tennessee State, and that game was interrupted by a lightning delay. A week later, the Eagles suffered a 70-14 road loss to FBS Oregon. They had a bye last week.
EWU head coach Aaron Best can't remember taking a bye week before EWU's school year began (the first day of EWU's fall quarter was Wednesday). He also can't recall starting with two games, taking a bye and finishing the regular season with nine games in as many weeks. Many FCS teams don't face two FBS foes in a season, let alone two Power 5 schools that sandwich a conference game.
Best expects this nine-game stretch to be a grind, but he pointed out that NFL teams often have longer stretches to end the regular season. EWU is also "as healthy as probably we've ever been" through the first three weeks, he added.
"Excited about the opportunity. Guys are ecstatic. We're playing a league game before we get out of league, so it's a little bit different," Best said. "Different, in my mind, is always good."
Odds are low that the Eagles will beat Florida, which is ranked No. 20 in the latest Associated Press Top 25. EWU will travel to Weber State a week after that and will host Sacramento State on Oct. 15. Weber State and Sac State are No. 12 and No. 7, respectively, in Stats Perform's rankings.
If the Eagles don't beat MSU, there's a good chance they'll be 1-4 entering their next home game, and they could be 1-5 after the Sac State game. The last time EWU lost five games in a season was 2019. That's also the last time EWU missed the FCS playoffs.
The one-game-at-a-time mantra carries extra weight for EWU this week.
MSU beat the Eagles 23-20 in a top-five matchup at Roos Field in Cheney, Washington, last November. Both teams have pieces to be competitive again, but both lost some of their best players.
EWU and MSU both had representatives at the Stats Perform National Awards banquet in January. Bobcats then-senior linebacker Troy Andersen — now an Atlanta Falcon — finished runner-up for the Buck Buchanan Award (given to the FCS defensive player of the year), while Eagles then-senior quarterback Eric Barriere won the Walter Payton Award (given to the FCS offensive POY).
"The change for them at quarterback is monumental," MSU head coach Brent Vigen said Monday. "They lost — I don't know if you'd say — a generational player, but obviously he was the player of the year in our division and he really made them go for a long time."
Barriere's replacement is Gunner Talkington, a senior who earned Big Sky offensive player of the week honors for his 348-yard, five-touchdown performance against Tennessee State. His top target has been Freddie Roberson, a junior who was third on the Eagles in receiving yards last year behind All-Big Sky wide receivers Talolo Limu-Jones and Andrew Boston. Those two were seniors last year, as was top running back Dennis Merritt.
The Cats lost Andersen, now-New Orleans Saints offensive lineman Lewis Kidd, now-Los Angeles Rams receiver Lance McCutcheon and three starting defensive linemen, including current LA Ram Daniel Hardy.
MSU's defensive results have been mixed so far this season, with a poor performance against Oregon's Pac-12 rival Oregon State last week in a 68-28 loss. But Carnahan, who transferred from Big Sky program Idaho, called MSU's defense "really good" and "legit." Nose tackle Blake Schmidt and defensive tackle Sebastian Valdez have especially stood out to Carnahan on film.
"Hard workers, high motors," Carnahan said. "That's my experience with both the Montana schools. They're just all hard workers, they're well coached, they'll get after it. So yeah, you've got to be on your game."
Best thought Matthew McKay and Tommy Mellott would line up at QB for MSU during last season's matchup, but only McKay took snaps at Roos. Now McKay is the starting QB at Elon. He entered the transfer portal after Mellott replaced McKay at the start of MSU's run to the 2021 FCS title game.
Best will almost certainly see two quarterbacks in MSU's backfield on Saturday. Wyoming transfer Sean Chambers has served mainly as a Wildcat QB and has rushed 23 times for 185 yards and an FCS-leading seven TDs. Against Oregon State, he and Mellott often shared the field and ran various option plays together. Sometimes Chambers kept it, sometimes he handed it off to Mellott. Mellott not only rushed it himself, he ran read-option or run-pass option plays with other teammates.
"They want to establish the run and reestablish the run and then reestablish the run again, to shorten the game a little bit and play defensive football, play some knock-down, drag-out football," Best said, adding, "They do a few things or wrinkles each and every week, so they give you different looks. But at the end of the day, it's all zone, it's all gap scheme in the run game. They just add another hat to the party with a quarterback.
"They will be tough. They play hard, harder than most. They play together, they play passionate, and you can see it on film."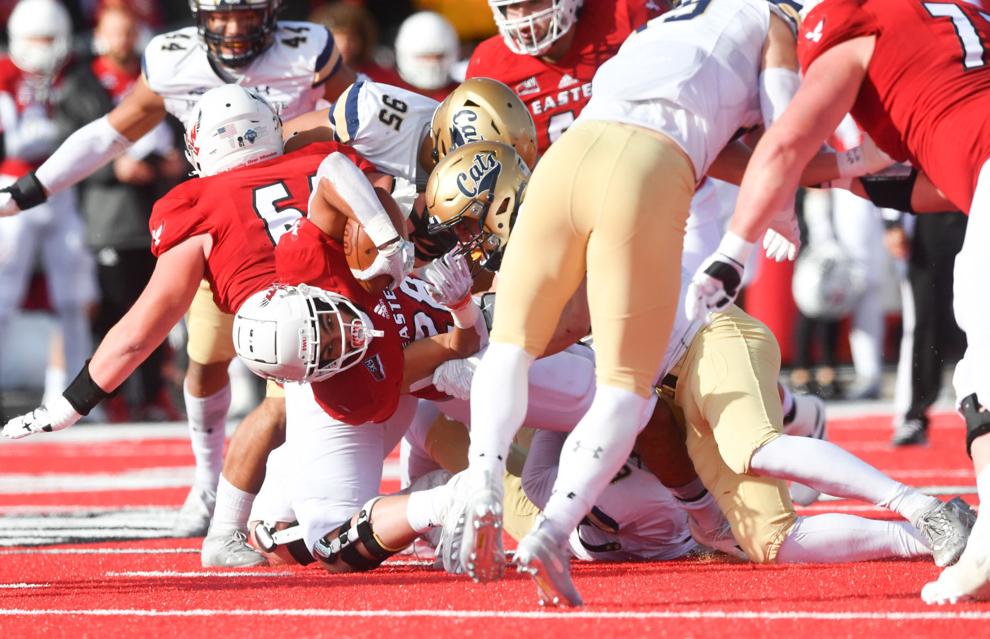 The Cats have utilized so much QB run because they've been without their top four running backs, namely Isaiah Ifanse, who rushed for 218 yards against EWU last season. The All-American won't play on Saturday.
There's no reason for the Eagles to look ahead to Florida when they've got a more important game on Saturday. Plus, they're more concerned about correcting their mistakes against their first FBS opponent. That 56-point loss at Oregon sat with EWU for days, and they've had to wait two weeks for another game.
The Eagles are rested, healthy and hungry.
"It's always a little harder after a loss, but sometimes when it marinates a little bit longer, you tend to be a little bit angrier and more excited about the next opportunity to strap it up," Best said, "so we're excited to get after it today and prepare for MSU."