BOZEMAN — On Oct. 15, Montana State's football team was playing a rare Friday night game at Weber State.
That scheduling quirk meant Bobcats offensive line coach Brian Armstrong wasn't able to watch his son Michael's Bozeman Gallatin team play in the crosstown matchup with Bozeman. He received updates, though, from his wife Julie through his Apple Watch on the sidelines.
In the future, when Brian seeks a report on his son's play, all he'll have to do is scan the Montana State bench.
Michael Armstrong, after two years of strong play for the Raptors, announced on Twitter on Dec. 30 he had committed to play for the Bobcats. He was a wide receiver and defensive back for the Raptors. He believes MSU envisions him as a nickelback, with the possibility at outside linebacker as he gets older and stronger.
Armstrong attended Montana State's FCS semifinal win against South Dakota State on Dec. 18 and got caught up in the moment.
"I was in the stands, and after the win I was like, 'I can't see myself anywhere but here,'" he said.
Armstrong said the team's culture and recent success, coupled with the academic prowess of the university, were all strong factors in his decision. He said he plans to pursue financial engineering.
Armstrong also received offers from Montana Tech, Rocky Mountain College, Montana Western and Presentation College in South Dakota, among others. But one thing those other schools couldn't offer Armstrong was the extended time around his father, whose coaching background has helped shape the player Armstrong has grown up to be.
"He's one of the hardest working people that I've ever been around," Armstrong said of his dad. "He's super competitive. He's somebody who hates losing a lot more than he likes winning, which is something I have in me, I feel like."
Brian Armstrong has been part of the MSU program since 2016, serving in various roles on the offensive side of the ball. In addition to being the offensive line coach since 2019, he has also been the running game coordinator since 2018. Prior to MSU, he was the head coach (2009-15) and offensive coordinator and offensive line coach (2007-08) at Rocky Mountain College.
"I'm a little biased, but I feel like most people would say we've had a pretty dominant O-line at Montana State the last couple years, and I don't think you'd ever hear that from him," Michael Armstrong said. "There's always work to be done. I think something I've taken away from him is there's always something you can get better at."
That mindset was evident during team activities for the Raptors, head football coach Hunter Chandler said.
"He played baseball during the summer, but he never missed a day in the weight room," Chandler said. "He was a really good leader in there for us in terms of his energy and holding guys accountable. His leadership was definitely something we leaned on the past two years."
After playing on Bozeman's junior varsity his first two high school seasons, Armstrong had six catches for 104 yards and one touchdown as a junior during Gallatin's first year. He was also second on the team in tackles with 42. As a senior, he recorded 20 receptions for 220 yards and three touchdowns. He was again second on the team with 61 tackles.
Chandler called him a "Swiss Army knife" on offense but added he'd be productive on either side of the ball in college.
"He's someone we're super proud of," Chandler said, "and he's come a really long way in the past two years here."
Armstrong will join Gallatin teammates Rylan Schlepp and Jake Vigen, who both signed with the Bobcats in December, at Montana State. Armstrong called the pair "A-plus friends" and said he's glad to continue playing alongside them.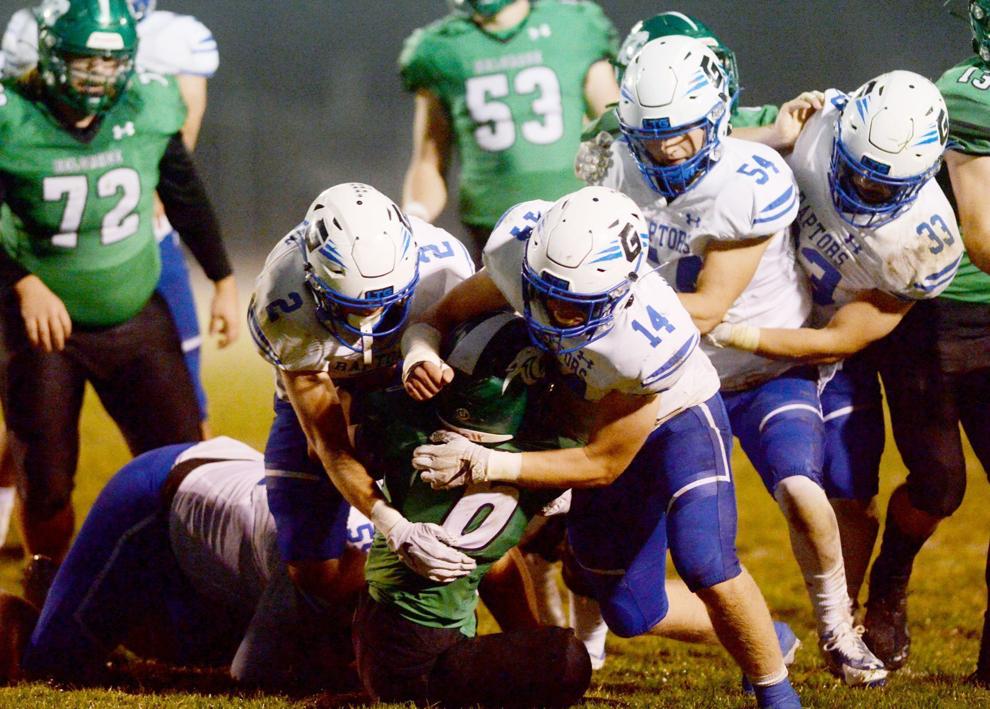 Similarly, he's looking forward to more time around his father. When MSU didn't play in the 2020 season, Brian was able to see more of Gallatin's games. With a return to a normal schedule in 2021, those opportunities became more infrequent.
That's why little gestures, like checking his Apple Watch, are so meaningful.
"That's special to me to know he cares," Armstrong said.
Just as he learned from his father, Armstrong knows he must continue to improve.
"The work starts now," he said. "I'm super grateful. I think I've made a lot of strides in my career. I'm obviously super blessed to have the opportunity that I do."