HELENA — By 2009, the success of Carroll's football program wasn't measured in 10-win seasons or even Frontier Conference Championships.
Success was measured in national championships, and by 2009, the Saints had five of them in a seven-year span.
That's probably why, even to this day, players and coaches from that 2009 squad – a team won 13-straight games, the program's 10th-straight Frontier title, and played in the national semifinal game – still breathe a deep sigh before they discuss the 42-35 loss to Lindenwood inside a frozen Nelson Stadium.
This Saturday, before Carroll suits up against Southern Oregon, members of that 2009 team will convene in Helena for the team's induction into the Carroll Hall of Fame.
"That team was kinda the springboard, certainly, to the 2010 team," Van Diest said. "We lost a great senior class, but you look at the juniors who came back and what they did the next year."
"I'm kinda biased, I think our 2000 team was pretty dang good, too. There's other teams that certainly had that resume, but this team, from the start until that semifinal game, was great."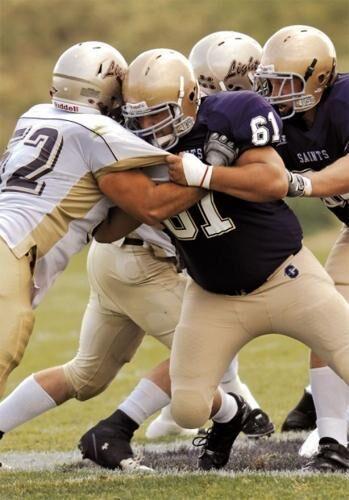 Gary Wagner, a fifth-year player in 2009, and juniors Andy Fjeseth and Thomas Dolan, accompany that team into the Hall of Fame.
"That '09 team was very, very, very good," Wagner said. "Unfortunately we just didn't get it done against Lindenwood…There were opportunities for us to win that game and I'll be the first to admit that I didn't play that well in that game and missed a couple opportunities when they left the door open."
"I still think about that to this day. Some of the nightmares I have are from that game."
Losing that semifinal game does not define the 2009 team.
Led by Wagner (2,972 total yards, 29 total TDs) under center, John Camino (960 yards, 11 TDs) and Gabe Le (919 yards, 11 TDs) in the backfield and Corey Peterson (544 yards, 9 TDs) and All-American tight end Bubba Bartlett (932 yards, 7 TDs), Carroll averaged 448.4 yards per game, ninth-best in the NAIA.
Ten times the Saints scored at least 30 points that year and four times they eclipsed 40 points.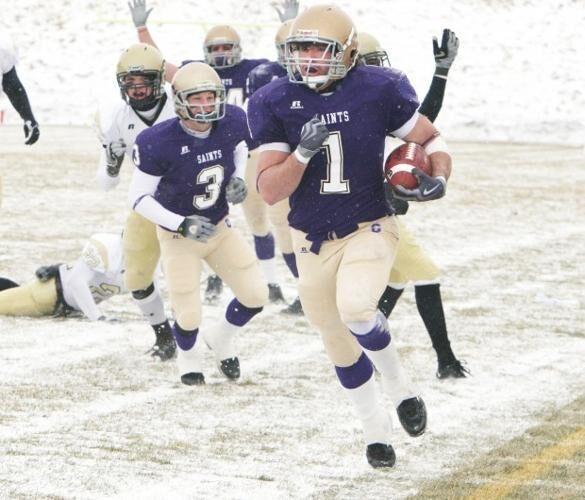 "That team had a great passion for the game of football…It was fun to be there everyday when we were competitive as heck…What a fun football team to play with," Alex Pfannenstiel, a senior offensive guard in 2009, said.
"It was a joy to show up every day and compete at practices and a joy to show up on game day and play."
That team averaged over 230 yards on the ground behind an offensive line that featured future Rimington Award winner Andy Fjeseth at center, a three-year starter in Pfannenstiel and senior Luke DenHerder.
On Nov. 7, 2009, Wagner broke the program record – a record he still holds – for single-game passing yards, previously held by J.D. Emmert, with a 397-yard, four-touchdown effort in a shootout with Eastern Oregon.
Peterson, Bartlett and Matt Ritter were all over 100 yards receiver that day, but it was Peterson who hauled in three touchdowns and racked up 137 yards on just four receptions.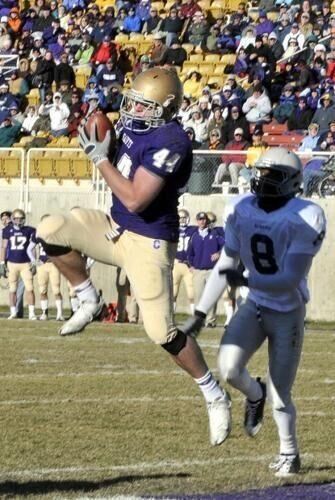 "We ran a middle screen to Matt Ritter that's normally good for eight to 10, 12 yards," Wagner said. "He was a Steady Eddie, so I knew we'd probably get some significant yardage on the play, but for him to take it to the house from [68] yards out was impressive."
"Corey Peterson was just running by their defensive backs. There were a couple balls that were thrown into the sun and he's putting his hand up – I don't know if he's going to see the ball – and at the last second he catches the ball with both hands and runs into the end zone."
For how good the offense was, Carroll's defense might have been better in 2009.
Stop me if you've heard this before, but Van Diest built an outstanding defense, one that's defensive line was so good that he switched from a 3-4 scheme to a 4-3 to get the quartet of Mike Ogrin, Travis Schmidt, Garrett Thompson and Mason Siddick on the field together.
"Those guys just played together so well," Van Diest said. "They ate up blocks and allowed the inside linebackers to run free…They were so quick. They all had their own strength – they were kinda almost like clones. They played well with their hands, they were physical, they were very athletic."
Ogrin and Thompson, from their defensive end positions, combined for 13.5 sacks in 2009. Schmidt and Siddick totaled 11.5 and 21.5 TFL between them.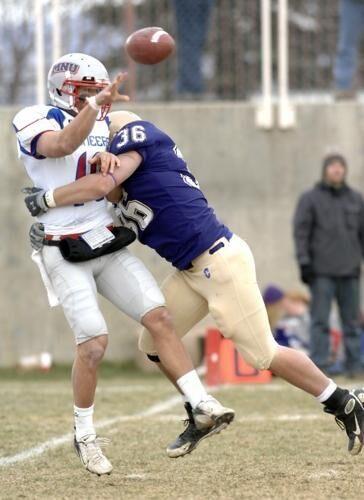 Carroll ranked second in the NAIA in sacks (45.5) and held opponents to, on average, 16.1 points per game (sixth-best in the NAIA).
Dolan, in his first full season starting, was Carroll's leading tackler from his SAM linebacker position.
The two-time Frontier Defensive Player of the Year and future first-team All-American made 100 tackles in 2009, 14.5 of which were for a loss of yardage.
He made at least nine tackles four times that season, including a 17-tackle outburst against Montana Tech and a 14-tackle effort three games later against Eastern Oregon.
"He goes down in [history], not just at Carroll College, but Frontier Conference and NAIA football, as one of the great linebackers…Thomas was a two-time defensive player of the year, just like Owen Koeppen was," Van Diest said.
"Thomas did so many great things – he could've been a great defensive end in a 4-3 defense. He knew how to rush the passer, he knew how to use his hands and play with leverage."
Van Diest called Dolan, 'one of the smartest players that we had' and recalled during his career when he hurdled a running back on a blitz to finish the play.
Brian Strobel (82 tackles, 4 sacks, 5 TFLs, 4 INTs), Mac Gordon (81 tackles, 2 sacks, 10 TFLs), Mike Waldenberg (65 tackles, 3.5 TFLs, 2 INT) and Shane Van Diest (64 tackles, 1.5 sacks, 3 TFLs) all helped anchor Carroll's defense in 2009.
While the '09 team ultimately fell short of a national title, it had the distinction of being the group that won Carroll's 10th-straight Frontier Championship, establishing an NAIA record. The program would go on to claim 12 consecutive titles (outright or shared) and enjoy four years of undefeated league play.
"For the fans and for other folks it was pretty important, they're used to that success," Wagner said. "You kinda think, 'I don't want to let anyone down and I want to continue what Tyler Emmert did and what John Barnett had done.' For me as the quarterback, I'm thinking that I want to win those Frontier championships just like the guys before me did."
"Each week was the Super Bowl because Carroll had a target on its back and you had to play your best game because everyone came and brought their best efforts when they played the Saints."
From 2006-11, Carroll won 43 straight Frontier contests, including a stretch from 2007-2010 where the program was a perfect 10-0 every season.
"It seemed like things just kinda rolled into place – we had all the pieces together but you still have to go out and play on Saturday," Van Diest said. "The conference was tough, the playoffs were tough, but these guys did such a great job being focused."
"Those guys loved football. They absolutely loved football. They played so hard."
Thomas Dolan
Just three 100-tackle seasons have been recorded by Carroll football players since Dolan's in 2009 (Brian Strobel, 103, 2010; Thomas Robison, 102, 2011; Sean Blomquist, 124, 2013).
Dolan redshirted in 2006 before amassing 256 career tackles, 6.5 sacks, 28.5 TFL, 16 pass break-ups and 2 interceptions in 51 career games from 2007-2010.
He was a two-time Frontier Conference Defensive Player of the Year (2009, 2010) and was an AFCA NAIA First-Team All-American as a senior. Dolan was also first-team all-Frontier as both a junior and senior.
"There is a long lineage of great players who have gone through Carroll before my time and there's a long list that will come after. To be included with them is truly shocking," Dolan said.
"It's an honor to be a part of the Hall of Fame."
At 6-foot-3, 228 pounds, Dolan played briefly at defensive end before finding a home at SAM linebacker in 2009. Dolan was athletic enough that Van Diest wasn't forced to substitute him out when the Saints went to their nickel package, and he could cover running backs, tight ends or wide receivers downfield.
Dolan played both SAM and MIKE linebacker in 2010 and finished third on the team with 79 tackles.
He had two interceptions that season, the first of which was returned 85 yards for a touchdown in the season-opener against Rocky Mountain College.
"That pick came off a former acquaintance from Billings, Mark Desin," Dolan said. "We grew up together playing travel basketball. We played against each other in high school. He went on to try his luck at Montana State before coming to Rocky. I was not the fastest guy, but the ball ended up in my hands."
"If you ask all my friends, they might tell you it looked like it was slow motion as I went 85 yards the other way. I know I got a good block from Thomas Robison. Things just kinda fell in place for a linebacker that runs a 4.9 [40-yard dash] to be able to go 85 yards with the ball."
Carroll teams Dolan were a part of (2006-2010) lost just four games. From 2007-2010, Dolan and the Saints won as many national championships (two) as they lost games, culminating in a 2010 national championship to cap Dolan's senior season.
"I just didn't taste losing very often, and when I did taste it, it was definitely bitter," Dolan said. "Finishing [my career] with a win and not having to taste that loss and getting to celebrate it with the guys you spend every waking hour with was great."
"Wouldn't change it for anything."
Andy Fjeseth
Described by former teammate Alex Pfannenstiel as, 'one of the best to ever put on a jersey for Carroll,' Andy Fjeseth had a drive and a passion to win that went unmatched by many others.
Now, he's a Carroll Hall of Famer.
"It's a really incredible honor," Fjeseth said. "As an offensive linemen I maybe understand that individual success is the result of a collective effort. Really thought about my teammates, especially those guys that were on the line with me from my senior year."
"Made me think of those guys and reminisce a little bit on the good times that we had."
A two-time first-team all-Frontier selection, the 6-foot-2, 282-pound Fjeseth won the 2010 NAIA Rimington Award as a senior, an honor bestowed on the association's best center.
He started three years at center, anchoring an offensive line that paved the way for 37 rushing touchdowns in 2009 and another 38 in 2010.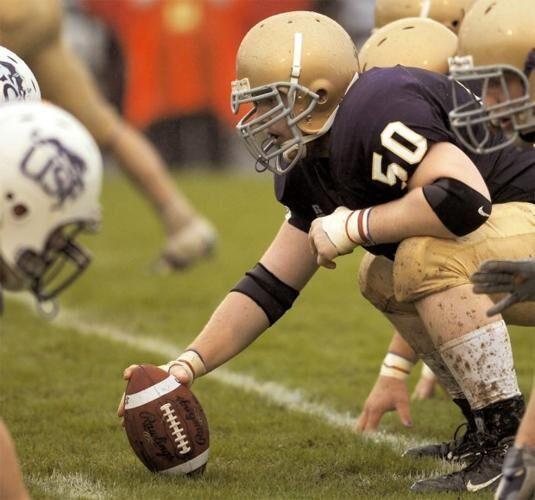 In 2010, Carroll's offensive line allowed just eight sacks in 14 games and blocked for a rushing attack that was the third-best in the nation.
Jim Hogan, Fjeseth's position coach, described him as an "unselfish player," one that gave it his all down in and down out and was always willing to help nurture and motivate a fellow offensive lineman.
Hogan said Fjeseth and Kyle Baker, who won the NAIA's Rimington Award in 2005, shared many of the same characteristics.
"[Andy] retained everything that you said," Hogan said. "We may talk about one particular defense or one particular blitz one week, and then three weeks later – we've gone through three or four games and maybe we haven't talked about that particular blitz [since] – this team presented it and he retained everything that we had talked about."
"His retention to detail was heads above everybody else."
Fjeseth redshirted in 2006 and was on the travel team as a reserve in 2007. He learned a lot from center Bryson Pelc, a senior starter, that year about football and how to carry oneself on and off the field.
It was mentors like that who showed Fjeseth what great leadership looked like and inspired him to pass it on once he stepped into that role.
"It's sort of this combination of accountability, empathy and motivation, and all these things," Fjeseth said. "I don't know if I was ever able to execute on those things at all times, but I know that the impact that my teammates had on me, across all the different levels – it was just me trying to say, 'OK, let me see if I can return that.'"
Gary Wagner
The Havre High alum and newly-minted MHSA Hall of Famer Gary Wagner led the Saints to the national championship game in 2010 and supplied the play of the game – an 83-yard touchdown run in the second quarter – in a 10-7 victory over Sioux Falls.
Wagner, a sixth-year senior by that season, was tabbed Most Outstanding Player in that title to go along with Frontier Conference co-Offensive Player of the Year and first-team all-Frontier honors.
He passed for over 5,200 yards and ran for another 916 in his Carroll career, totaling 59 touchdowns in the process.
"Very honored and blessed to be nominated and accepted into pretty prestigious waters," Wagner said of the Hall of Fame. "There's a lot of folks in there that I looked up to and I knew throughout the state of Montana growing up as a kid…
"For me personally to get into the same territory as some of those folks is kinda wild. I'm super, super excited because, as a competitor and an athlete, I'd be lying if I said I didn't want to be in the Hall of Fame. I wanted to have an awesome career and I wanted to be a benefit to our teams."
Known as one of the most efficient passers in the NAIA, Wagner completed nearly 66 percent of career pass attempts. In 2010, his pass efficiency of 164 ranked sixth in the country while his 2,508 yards of total offense (1,983 passing, 525 rushing) was 23rd-best.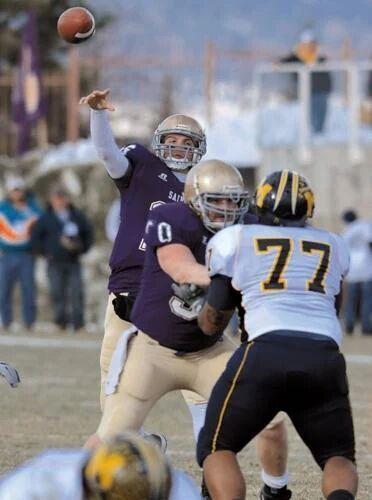 "He was so accurate and he did a great job throwing the deep ball," Van Diest said. "He was just so good and he loved throwing the deep ball. That was his bread and butter. He loved to get those receivers down the field. We had speed on the outside and we could stretch the defense."
Wagner still owns the program's single-game mark for most passing yards (397) after setting it against Eastern Oregon in 2009.
"I really felt like I had the skillset to make some throws that maybe some others wouldn't," Wagner said. "I wasn't the biggest guy in the world by any means and I really had to learn to throw with my lower half."
"I worked with coach [Nick] Howlett on that quite a bit – using my legs to be explosive and generate the start of the throw."
Wagner battled injuries in his time at Carroll, missing much of the 2008 season with an ankle injury. He fought to get back on the field, and in his final two seasons, the Saints went 27-1 and won a national title, with Wagner filling the lion share of reps under center.
"I don't know a lot of guys who would've come back from an injury like that," Fjeseth said. "Gary did, and not only did he come back, but he excelled."