HELENA — Carroll doubled its known number of football commitments this week. Helena High's Kade Schlepp and Missoula Hellgate's Jacob Sweatland became the third and fourth 2022 commits, deciding to become Saints at the same time following a recent official visit to campus.
"We had an official visit this weekend," Carroll recruiting coordinator Alex Pfannenstiel said. "When they went and visited with coach Purcell and he asked them if they both wanted to be Saints, they both said yes after their official visit. We are in the middle of official visit season right now."
Schlepp announced his decision to play for Carroll less than a week after Bengals teammate Forrest Suero elected to continue his football journey with the Saints. Schlepp said he and Suero have been playing football together since fifth grade. Even before that time, the Helena wide-out knew he wanted to attend Carroll after he grew up watching Saints football games and building a relationship with player Mike Bruce, whom Schlepp's family hosted a number of years ago.
It was going to those games during his formative years where Schlepp believes he developed the love for Carroll that he has lived with most of his life.
"I've been dreaming of this since I was a little kid," Schlepp said of his commitment. "I'm really pumped to be signing here. With my teammate Forrest signing -- he's been my best friend since elementary school. That's really cool. Also I get to stay in Helena, I love Helena. Being here and going to a school that I've dreamed about going to, and then having one of my best friends [there too], is really special for me. I'm really excited about that."
Schlepp was one of Kaden Huot's top targets this past season, hauling in 51 receptions for 592 yards and 10 touchdowns.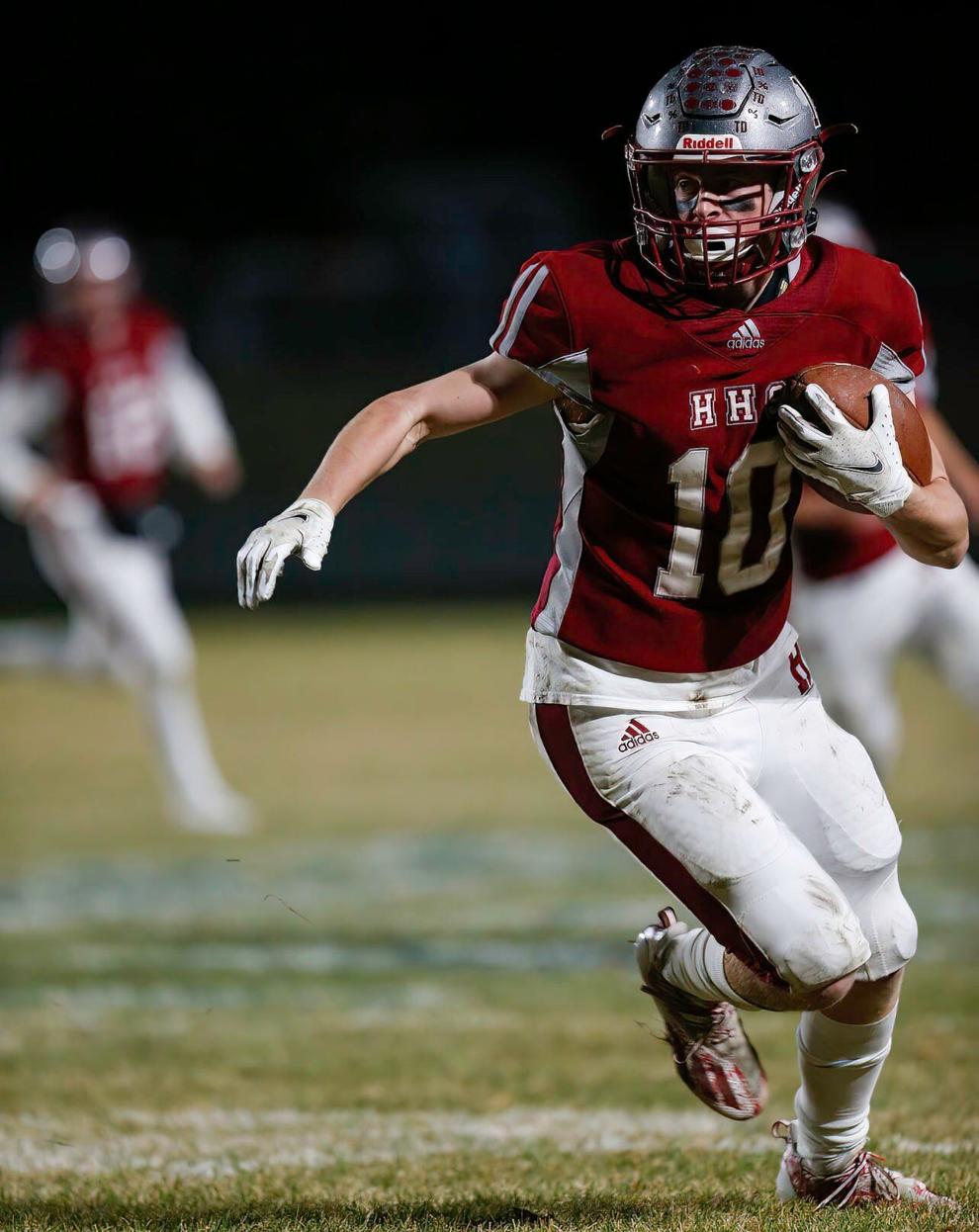 "Kade made a great leap of improvement from his junior year to senior year," Pfannenstiel said. "You can tell by watching his film and talking to his coaches that he's a very intelligent football player...Any time you're catching double-digit touchdowns in high school football you're a really productive player. He's a good route-runner and he has great hands and ball skills. It was impressive to watch him progress throughout his senior year and see the production that he had and that those guys really targeted him in key moments. We're excited that Kade is a Saint."
Schlepp caught 11 total touchdowns as a Bengal and racked up nearly 700 yards. During his senior season, he was a big piece of an offense that helped Helena High reach the Class AA semifinals.
"I'm hoping to bring physicality because that's a thing you don't really see anymore; receivers that will go block and get their teammates open," Schlepp said regarding skills he brings to Carroll. "Just being a team player is kinda my approach toward it. Obviously scoring touchdowns and getting yards and all that is fun, but mostly [I want] to bring a good work ethic. Becoming a leader, I think, would be a really important piece to Carroll."
Schlepp said he plans to enter the pre-med program at Carroll and that he has wanted to become an orthopedic surgeon his whole life.
"The medical field has always interested me," Schlepp said. "In high school I just started taking some classes up that alley. Ever since then, my love for going into the medical field has just kept growing. That's what I'm gonna pursue."
"He's aggressive, likes to step up and hit": Missoula Hellgate's Jacob Sweatland commits to Carroll
Sweatland played both sides of the football during his senior season, ripping defenses for big gains and catching passes out of the back-field as a running back, and then helping to stop the run on defense as a linebacker.
"We had a nice, fun debate over whether Jacob was a running back or a linebacker," Pfannenstiel said. "Played both sides of the football and he's a good football player. He's got a nose for the ball on defense. He's aggressive, likes to step up and hit. You can see his athletic ability in space and his ability to make plays on the perimeter by watching him play running back."
Pfannenstiel said, for now, that Carroll will likely play Sweatland at linebacker, a position the 6-foot-1, 210-pound future Saint said he has only played full-time for one season. Still, Sweatland said Carroll liked his speed for his size and he believes that allows him to be able to play multiple positions, if needed.
"I'm pretty excited about it," Sweatland said of his commitment. "I kinda knew it was coming for a while. I wanted to wait for my official visit to kinda see more about what Helena and Carroll were like. They've definitely recruited me the hardest and I could tell they really liked me there...
"[Carroll was] the first one to reach out to me after my junior year where I got hurt and didn't play at all. That felt really good that they believed in me when really no one else did. I just always loved the coaches and how nice they were and how easy it was to talk to them. Same with the players, they were all the same way."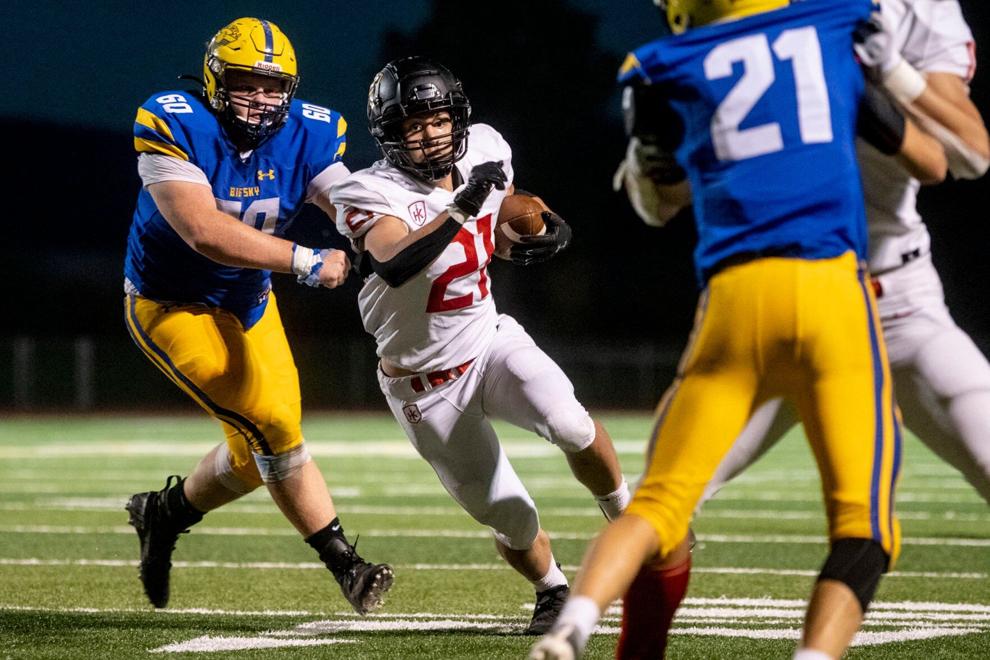 Sweatland came on a game day visit when the Saints hosted Eastern Oregon. Carroll's defense allowed just 10 points that day and scored six on a fumble recovery touchdown, making it a good day to impress a potential defensive recruit.
"That game in particular, their defense was kicking butt," Sweatland said. "They had that forced fumble for a touchdown and they had three-and-outs all the time. It was just super fun to watch. The student section in the end zone right after they got that scoop and score just going crazy was all just super cool and super fun."
Sweatland said he is leaning toward studying Chemistry at Carroll.
Schlepp and Sweatland join Billings West kicker Spencer Berger, Helena High defensive lineman Forrest Suero and Bishop Kelly (Idaho) offensive lineman Jack Foster as current Carroll commits for the 2022 cycle. Foster, a 6-foot-7, 235-pound tackle, announced his commitment via Twitter on Tuesday afternoon.
"You look at these guys and they come from great high school football programs...There's a lot of work left to do, but it's nice to have some guys that are from close to home that know what Carroll football [is about] and know what it means to play college football in the Frontier Conference because they've grown up watching it," Pfannenstiel said.