BOZEMAN- A very interesting piece of running equipment made its way to the top of a hiking trail in Hyalite Canyon: a treadmill.
It might seem funny to find on a trail, but it's not a laughing matter to people who want to keep scenic trails beautiful.
The Forest Service says that you could be facing anywhere from $100-$500 if you're caught littering.
But Forest Service Patrol Captain Nate Card says a $500 fine is nothing compared to what the taxpayers are paying.
"We have to for public safety go out and clean that stuff up," Card said. "It takes away...a whole day of what they had planned to previously maintain."
The taxpayers are footing the bill for the removal of these items. Card says over the summer they had to remove a camper that somebody was living in and abandoned. He says it took many hours of labor, plus a disposal fee.
Officers say if you need to dispose of your workout equipment, it cost roughly $10 to leave something of that size at the landfill.
Rob Gregoire who hikes in the Hyalite area frequently, says he really was not shocked about the treadmill. He says he's come to expect careless litter in the popular scenic destination.
This summer, Gregoire has been cleaning up trash and nails while on hikes.
He says he's collected three gallons of nails, along with beer cans and other detritus.
He loves being outside and he's happy to do his part but he's especially frustrated with the nails left from pallet fires.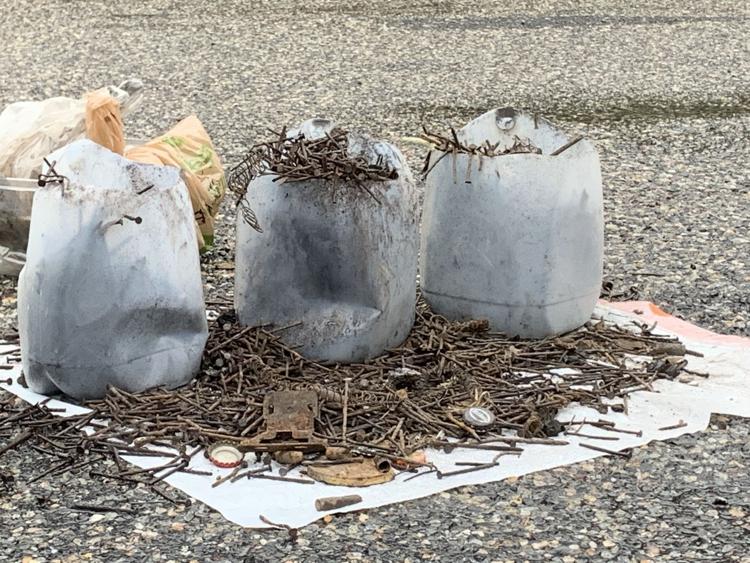 "It's just ugly, especially when they have a bunch of ashes and they burn beer cans," Gregoire said. "Bottles, they don't go away, so you've got to cart them off, shovel them up, put them in a bag and throw that in the back of your truck. It's just ugly."
Gregoire asks that people clean up after themselves and pick out nails from pallet fires.