BIG SKY- Next time you hit the slopes here in Montana you might be sharing them with one of the greatest American skiers ever. 
Five-time Olympian and six-time Olympic medalist, Bode Miller, recently announced he and his wife were expecting twins. But another announcement was also made by the couple, they will now call Big Sky home. 
In a post to his website, Miller said, "I just recently moved my family to Big Sky, Montana to reconnect with my roots, recharge my soul, and raise my family in the mountains." 
His childhood home was in New Hampshire, where he says he discovered his love for skiing.
"I had success in my career...I feel disconnected from that now I just think of myself as a dad."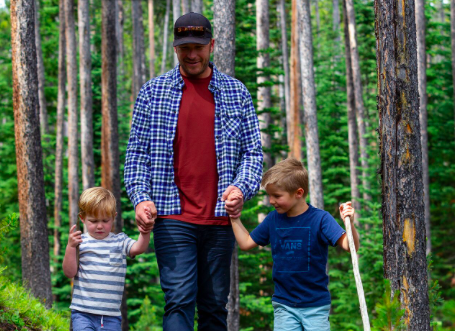 His love of skiing is something he's excited to share with his kids.
"I think what I'm looking forward to the most is that first time we put our boots on in our house walk out the door put our skis down in the snow right there click in and ski from our house down to the lift you with the kids and ski and ski back to the house," Miller said.
Miller went on to say that trips to the mountain will now be part of his family's daily routine.
The Miller family has said that the move to Montana has to do with many reasons, the biggest one being the death of his daughter, who died in a tragic drowning accident.
Miller explained that it put life in perspective for him. The things that are most important to him are his children and he wants to spend as much time as possible with them.
"To lose a child, to lose a daughter… we reevaluated how we were spending our time, where priorities were and what we were focused on," Miller said, "you get really sucked into certain routines…… you know our kids they to go to school all the time and they have sports stacked on top of each other for us as parents were basically just shuttling them from one activity to another…. so this was a totally different scene and environment."
After the loss of their daughter, the Millers have worked to educate others so that no one has to go through what they've gone through.
"Drownings happen everywhere," Miller said, "and it's just one of those things that I think we have the ability to change, if there's things like that but you can change then I think we should, especially in areas with significant resources and influence if we can sort of set standards that other people can kind of latch onto and best practices that people can use."
The family is committed to being involved with their new community. And they are getting started right away. On Thursday night, the Miller crew will be at Music on the Mountains put on by the Big Sky Arts Council.
The Big Sky Arts Council is one of the foundations he's going to work with along with the Big Sky Ski Education Foundation.
"I grew up in a small area in New Hampshire, and I think [art] is what makes a community special," Miller said.
He says that art and gatherings really make a community feel connected.
Miller will be signing autographs and raffling off an autographed pair of skis worth over $2,600 along with a ski trip with him this winter.
All of that money will be going back to the Big Sky Arts Council.
The Olympian who now proudly calls Spanish Peaks home is excited to meet you and share his love of sport with the community.
If you'd like to stop by Music on the Mountains and meet Montana's newest resident you can click, here, for more information and you can RSVP, here.