BOZEMAN- Gallatin County is preparing to vaccinate the second group of people in their COVID-19 vaccine distribution plan sometime this month.
Phase 1A of the highest-risk healthcare workers as well as long-term care facility staff and residents are still being vaccinated but Health Officer Matt Kelley said the county is getting closer and closer towards having the first phase of vaccinations complete.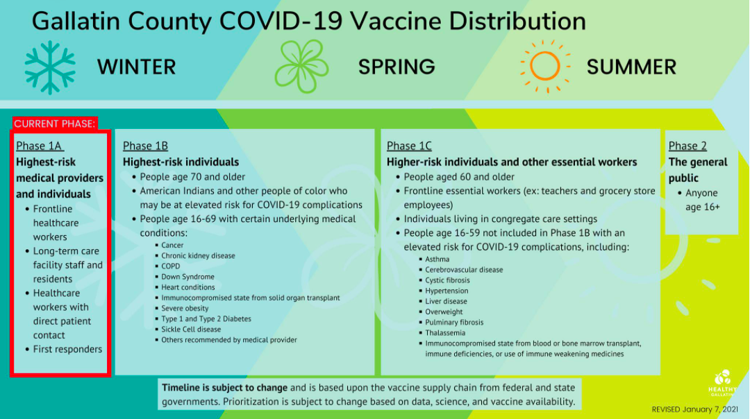 "We're hoping, we think we're going to get another vaccine allocation next week which will allow us to do some more vaccine administration, again we will continue to be in that 1A phase," Kelley said. "We're hoping to get toward the end of that sometime next week and be ready to move into the next phase when the state is ready to do that."
The timeline for vaccine distribution is subject to change based on vaccine availability.
This week the county received 1,000 vaccine doses and early next week they expect around 500 doses.
Gov. Greg Gianforte made a revision to the states plan for phase 1B earlier this week increasing the number of people by 160,000.
Kelley said phase 1B will take longer than expected as it prioritizes people older than 70 as well as younger people who have complications that make them more susceptible to the virus.
The most up-to-date information can be found here.