HELENA – The Department of Public Health and Human Services has launched a free online resource to help young Montanans quit tobacco products. 

E-cigarettes are so popular among teens that almost half of high school students have tried them and more than 22% of them currently use e-cigarettes compared to only 4% of adults. 
Data from the National Youth Tobacco Survey shows high school e-cigarette use rose 78% from 2017 to 2018. The My Life, My Quit Program comes after a surge in e-cigarette use among Montana youth, and is completely free and different from anything offered in the nation.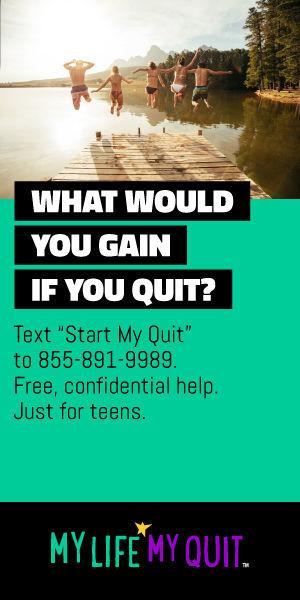 "This actually connects you with a real live coach where you're having that back and forth exchange, and they're helping you walk through that quit process," said Nicole Aune the Montana Tobacco Use Prevention Program Manager. 
In Montana e-cigarettes are now the most commonly used tobacco product among youth. Nine out of 10 smokers who start before the age of 18 are at a greater risk of addiction.  

"A lot of kids don't even realize that e-cigarettes contain nicotine. So, when they start using them, they're becoming addicted and then three months down the road they find that they are spending all their money on e-cigarettes and that they can't stop. We want to provide them with a resource to help them get off e-cigarettes and get off that addiction," said Aune.  

Montana is among nine other states participating in the program. My Life, My Quit addresses how to quit vaping, using the best practices and offers new ways to reach a coach using live text messaging and online chat. 

The program is completely free and is 100% confidential and no information will be shared about any youth who utilizes the My Life, My Quit Program without their permission. If you would like to find out more information about the program you can click here.