BOZEMAN, Mont. – A unanimous vote by the Bozeman School Board to send a letter to Gov. Greg Gianforte's Office will ask that educators be moved from Phase 1C back into Phase 1B of the COVID-19 vaccine distribution plan.
On Jan. 6, Gov. Gianforte made changes to the state's original vaccine distribution plan moving educators from Phase 1B to Phase 1C.
In the letter the school board said, "We do not agree with the decision to move educators and school-related personnel (i.e., "frontline essential workers) to Phase 1C…"
Chad Berg, director of special education & student health, said teachers and other school-related workers are essential for a sense of normalcy in both schools and the community.
"If we can have access to a vaccine that prevents more severe illness or prevents disease transmission that helps keep teachers in front of students, that helps keep everybody safer and it helps keep our community open and functioning," Berg said.
The Centers for Disease Control and Prevention includes teachers and other educational workers in Phase 1B and right now 26 states follow their recommendation, but Montana is not one of them.
"Our educators are working in close proximity with large numbers of kids without ability to maintain distancing, yes we are engaged in other mitigation factors and steps, and the vaccine would be a powerful contribution to helping to keep our schools open and running," Berg added.
Bozeman Public Schools are almost completely back to normal days of learning with safety precautions as high schools are back to four days of in person a week and elementary and middle schools all five days.
Berg stressed that the district is monitoring the COVID metrics and data as well as understand that COVID-19 vaccine supply is a big constraint.
As of Feb. 2, there were 50 employees in the district vaccinated in Phase 1A, including school nurses, health aids, speech, occupational and physical therapists and school based mental health staff like counselors and psychologists.
Another estimated 50 additional staff, including teachers and paraprofessionals providing medically necessary special education services are being scheduled.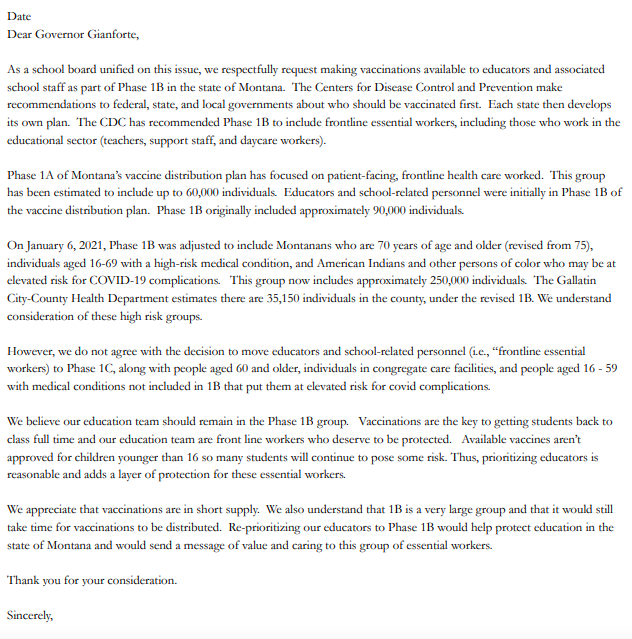 The full letter and action item from the school board's Feb. 8 agenda and packet can be found here.