MISSOULA- The National Weather Service is saying blizzard conditions are possible Sunday night through Monday.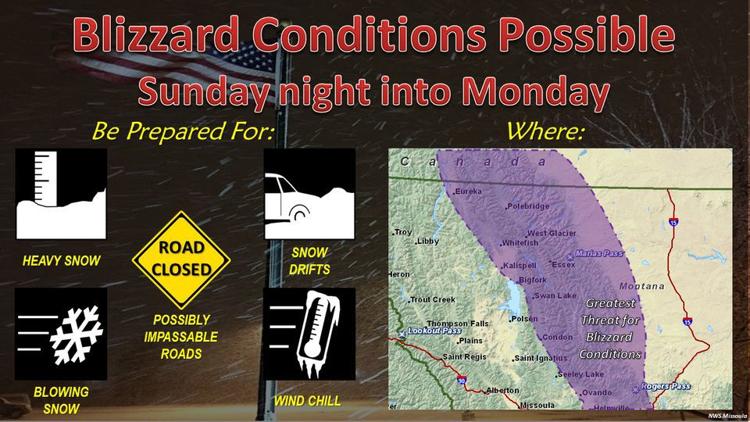 Anyone in affected areas should prepare for heavy, blowing snow, snowdrifts and windchill.
Parts of Northwestern Montana are also under a winter storm warning and NWS says they expect heavy snow of 8 to 13 inches along the Idaho and Canadian borders with 5 to 8 inches elsewhere.
Areas expected to be affected by the heavy snowfall include Highway 2 from Kalispell to Libby, Highway 37 from Eureka to Libby, Highway 56 from Bull Lake Road and Highway 93 from Eureka to Whitefish.
Road closures are possible in areas affected by the snow, and NWS says the conditions could bring snowdrifts, dangerously cold wind chill and significantly reduced visibility.
If you have to travel, NWS advises that you keep an extra flashlight, food and water in your vehicle in case of an emergency.
For the latest road conditions, you can check the Montana Department of Transportation's Travel Info website or call 5-1-1.