HELENA, MT- For decades, Sgt. Patrick McLaughlin has served the state of Montana with the Montana Highway Patrol.
Before working for MHP, McLaughlin was a volunteer firefighter for the Belgrade Fire Department for many years, which launched his career in service. 
"Even before I met Pat he was serving this community as a volunteer fire fighter with Belgrade," Jennifer McLaughlin, Sgt. McLaughlin's wife said. 
On Monday, after years of dedication to his community and state, McLaughlin will retire.
"From [his time in Belgrade] his passion to help people grew with the hopes of working in law enforcement," Jennifer McLaughlin said. "This lead to him joining the MHP almost 23 years ago. The sacrifices made over the years are not just of him but his family too."
Since 1999 McLaughlin has served the people in District 7, the Bozeman, Gallatin, and Livingston communities. 
And serving the people of Montana was what he was most proud of. 
"This is a thankless job at times and I'm proud of him and all of his accomplishments," Jennifer McLaughlin said. "The challenges he's faced that in return have made him a better officer."
The sergeant did it all, he could be seen responding to incidents in Four Corners, patrolling I-90, talking with local students, and becoming a trusted source for local news reporters.
His wife says, no matter what the issue was, if community member, friends or family needed advice or information about any civic issues.
Most recently McLaughlin commuted between the Bozeman and Helena area, he spent time in service protecting Governor Steve Bullock and Governor Greg Gianforte, he now works at the MPH headquarters in the Boulder.
"I know he will miss working for the people of Montana and he is thankful for the numerous friendships made and opportunities he's been able to be a part of," Jennifer McLaughlin said.
In between the day-to-day of his job at MHP, Montana State University fans also got to know McLaughlin as well, Sergeant McLaughlin worked the sidelines as protection for the team at football games.
The sergeant also traveled with the University football team for on the road games.
I'm pretty sure I know that guy! @SgtPatrick127 pic.twitter.com/ZHdeKwmHti

— Bradley Warren (@bradmwarren) October 12, 2019
His last game was this Saturday, The Brawl of the Wild, in which he worked alongside his son.
"Being a good role model was important to him, especially when our son at an early age expressed interest in being a State Trooper," Jennifer McLaughlin said. 
Although Monday will be his last official day with MHP, his legacy and service to the people of Montana will live on in his son, Kyle, who is recently chosen to follow in his father's footsteps and become a part of the Montana Highway Patrol.
"Earlier this year Pat had the honor of pinning his sons badge on him when he was sworn in as as a Montana State Trooper," Jennifer McLaughlin said, "Now that torch is passed after almost 23 years."
Thank you for your service Sergeant McLaughlin.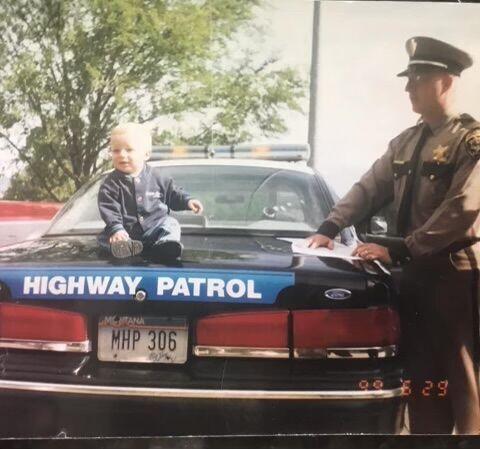 As news of Sergeant McLaughlin's retirement spread dozens of people have reached out. 
One of those people was Fox News anchor Brett Baier, he was involved in a car crash in Bozeman gained national headlines. 
Thank you @SgtPatrick127 for your service — and for helping my family after that big accident in Montana. Congrats on your retirement #Thankful #grateful https://t.co/lSZqPfVZtT

— Bret Baier (@BretBaier) November 21, 2021