To his family, 15-year-old Michael Stabile was like any other teenager. The freshman at Lake City High School had a job, a girlfriend, and was looking forward to getting his license.
"He loved his family and we all loved him," Michaels older sister Kirstin said Thursday. 
Kirstin said when Michael came home Monday evening, his routine was common for a 15-year-old kid: He said hello to his parents and "he went to into his room and turned on his music like he normally does," Kirstin said. 
It was a normal night, until it wasn't.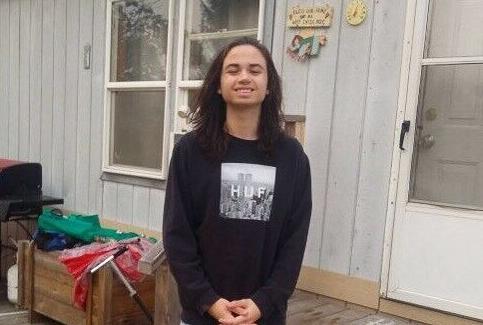 A short time after Michael came home, his parents went to check on him. 
"They found him and he was unresponsive," Kirstin said. "My mom rushed and tried to do CPR."
Despite those efforts by Michael's mother and responding medics, Michael was gone. Leaving behind a family is left wondering "what happened?"
"Nobody thought that this was going to be us," Kirstin said. "He was just so young. He only had 15 years of life." 
Michael's death is still under investigation by Coeur d'Alene Police and a toxicology report is still pending, but his sister believes his death was an accidental overdose. 
The day after Michael's death, Coeur d'Alene Police released a statement warning the public of a disturbing and unfortunately deadly pattern as they believe counterfeit prescription pills laced with lethal doses of Fentanyl are responsible for three teen deaths in north Idaho since last fall. 
"It's like playing Russian roulette with a loaded gun and the kids don't understand that," Captain Dave Hagar said earlier this week. 
Capt. Hagar said the pills look just like the pills you would get from a pharmacy and that's part of the problem. 
"They can look like any type of pill and they can make them with these little pill presses in just the back room of their house," Captain Hagar said about the people producing the counterfeit pills. 
There are major differences between pills you get at the pharmacy and those that come from the street, namely quality control. 
When you get pills at a pharmacy, you know exactly what is in them and the precise dosage. 
The people manufacturing counterfeit pills don't use any kind of quality control, so while their pills may look like the same ones you get from a pharmacy, on top of not knowing exactly what's in them, one pill may have virtually no narcotics in it, while another pill has more than enough for a deadly dose, which is why Captain Hagar, along with Michael's family, say it's important to talk to your kids. 
"Ask them. Talk to them. Let them know the dangers of what's going on," Capt. Hagar said. 
"They don't know what they're getting themselves into," Kirstin added. "When they're taking something, they don't know where it came from or even if they know where it came from... you don't know what you're putting into your body. Whether you find something off the street, whether someone tells you to take it, don't take it." 
While Michael's life was cut short just as it was getting started, Kirstin hopes there is something for his friends, his peers and the community at large to take away from his death. 
"These kids don't need to be dying from taking things that they know nothing about," Kirstin said. "It could've been anybody's child. It can be anyone's child."
Michael's sister started a GoFundMe to help cover the costs of his funeral, which is set for Monday. If you'd like to donate, CLICK HERE.