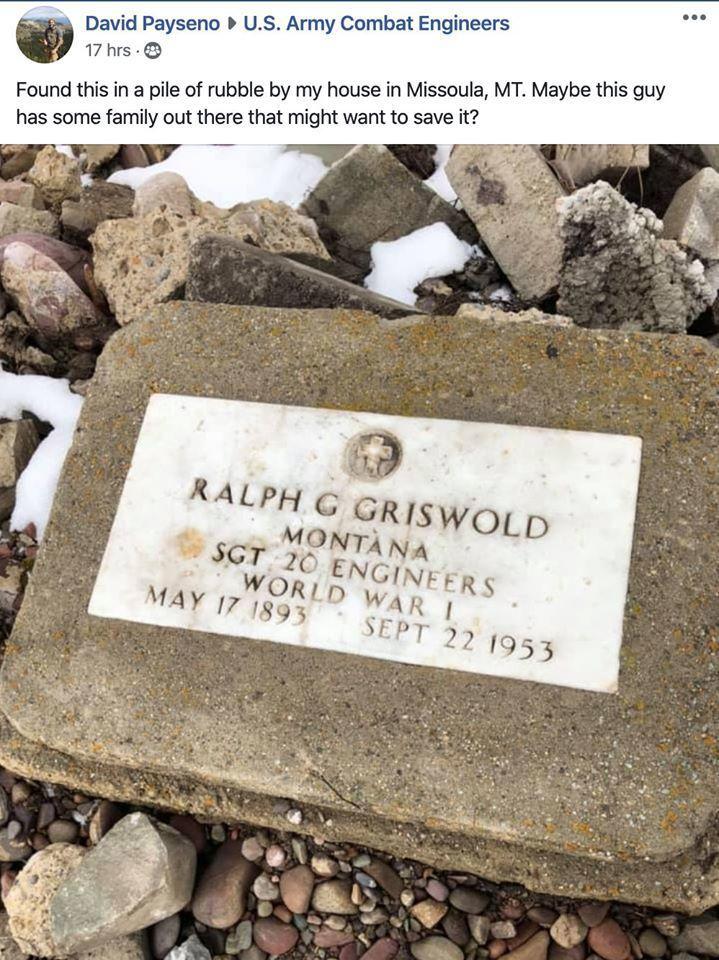 MISSOULA - A gravestone with the name "Ralph G. Griswold" was found in a pile of Missoula rubble, according to a veteran's recent Facebook post.
Facebook user, David Payseno, posted the photo to a group called "U.S. Army Combat Engineers," and the post has since been shared thousands of times.
According to the post, Payseno found the stone in a pile of rubble and is looking to get it back to the family it belongs to.
Out of the hundreds of comments on the post, the people of Facebook were able to track down Griswold's current grave site using a combination of Find A Grave and Ancestry.com.
Griswold is buried with his wife at St. Mary's Cemetery on Missoula's North Side. 
"Years ago the family bought a monument, the Griswold monument, and replaced the government marker for Ralph who was buried here in 1953," Cemetery Sexton Mike Hamlin said.
Turns out the family didn't want the marker at the time, so it was left behind at the workshop.
"That marker has been at the cemetery shop in our pile for some time now," Hamlin said.
And that is where David Payseno found the headstone, took the picture, and posted it to Facebook. Leading hundreds of people to ask why this headstone was no longer in the cemetery.
"We would be glad to reinstall the government marker on the family plot, but it has to be ordered by the Griswold family.
All these years later, the cemetery has kept the maker just in case one day someone in the family wants it back.