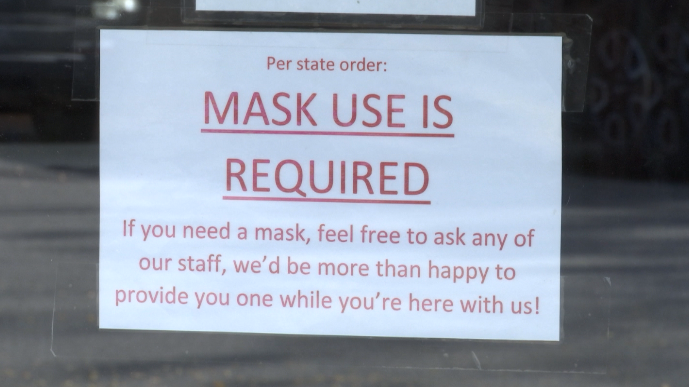 As featured on
On Friday, the reported cases of COVID-19 infections reached 598, exceeding the limit. The county also exceeded the weekly COVID-19 infection rate of 50 per 100,000 people, promoting County Health Officer John Felton to issues new restrictions for businesses.
Weather Alert
...WINTER WEATHER ADVISORY REMAINS IN EFFECT UNTIL 2 PM MDT
MONDAY...

* WHAT...SNOW AND FREEZING RAIN. ADDITIONAL SNOW ACCUMULATIONS UP
TO 2 INCHES. ICE ACCUMULATIONS UP TO A TENTH OF AN INCH.

* WHERE...PORTIONS OF CENTRAL, SOUTH CENTRAL AND SOUTHEAST
MONTANA.

* WHEN...UNTIL 2 PM MDT MONDAY.

* IMPACTS...TRAVEL COULD BE DIFFICULT, ESPECIALLY IN THE MORNING
AND AT NIGHT AS ROADS COULD BE ICY. FREEZING RAIN IS POSSIBLE
TONIGHT THROUGH MONDAY MORNING. WET, DENSE SNOW COULD BRING DOWN
TREE BRANCHES RESULTING IN POWER OUTAGES.

PRECAUTIONARY/PREPAREDNESS ACTIONS...

SLOW DOWN AND USE CAUTION WHILE TRAVELING.

FOR THE LATEST ROAD CONDITIONS, CALL 5 1 1.

ADDITIONAL GRAPHICS FOR THIS HAZARD CAN BE FOUND AT
HTTP://WWW.WEATHER.GOV/BILLINGS

&&


News Updates
Would you like to receive daily news updates from KULR-8? Signup today!
Breaking News from KULR-8
Get breaking news in your email inbox as soon as it happens.
Get up-to-the-minute news sent straight to your device.
Topics
Breaking News
Weather Alert
Top Stories