MISSOULA, Mont. - Missoula County is seeing a troubling trend as this week, the health department is reporting the highest number of active COVID cases and hospitalizations since the pandemic started.
The Montana National Guard was called in two weeks ago to help the strained healthcare systems.
This week, Angela Marshall talked with two Montana National Guard personnel to get an understanding of how they're providing support as healthcare workers remain overwhelmed.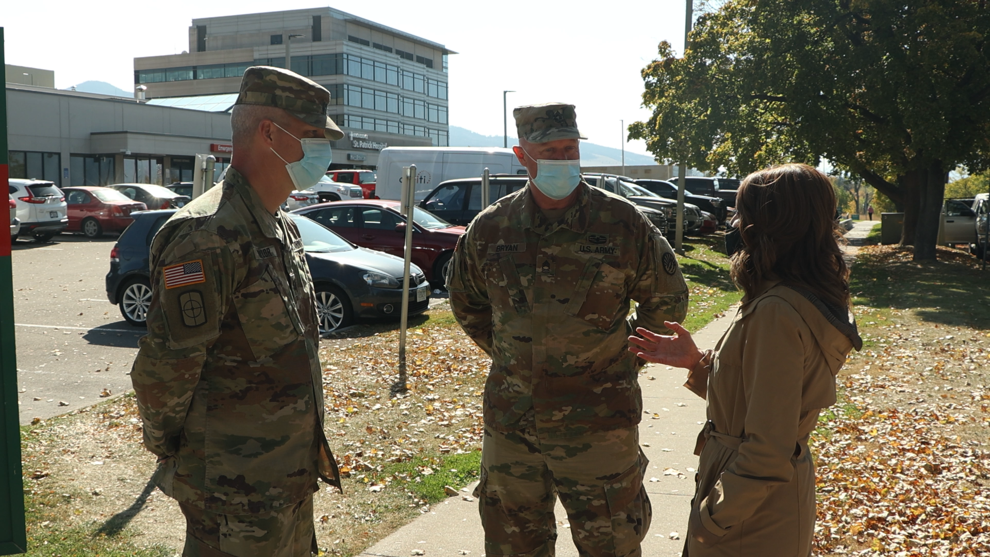 "The virus doesn't care what state lines or national boundaries are," Parker Taylor, who is the Operations Officer for the 208 Regional Training Institute in Helena, said. "It just goes where it wants to go."
Parker Taylor and Jim Bryan are two of 22 National Guard personnel who've been offering helping hands to Missoula's medical staff since their assignment began on Sept. 22.
"Their labor shortage is pretty critical in those departments that we're working and so, we are here to fill in the gap," Taylor added.
Putting away supplies, taking out the trash, changing bed sheets, disinfecting the ER... They say that no job is too big or too small to alleviate pressure on our doctors and nurses so they can put the focus on their patients.
And it seems the flow of patients hasn't slowed down.
"Since I've been working housekeeping in the ER, cleaning rooms, I've seen those rooms filled continuously with people waiting in the Waiting Room," Bryan, with Joint Force Headquarters, said. " I've seen people set up in the ambulance bay with a couple of beds in there. Those are also full."
In addition to being stationed at Providence St. Patrick Hospital, National Guard personnel are also offering support at the county's vaccine testing center and vaccination clinic, and are on-call to disinfect rooms at the city-owned Sleepy Inn quarantine facility. 
Both men say that it's been an eye-opening and humbling experience.
And knowing they're helping, even in the simplest of ways,  motivates them to continue their assignment.
"We're just part of a statewide effort," Taylor said. "There's other teams that have stood up that are stationed all across the nation helping out with the nationwide labor shortage, combined with the pandemic."
And Bryan added, "You know, we are Montanans as well, and we want to help our neighbors and that's why we're here."
National Guard help has been requested until Oct. 23, but Taylor says they will stay longer if they're needed.